Progressive web apps are cheaper, faster and easier to build then using Native Apps.  PWA's consolidate the development process into a single platform application. Because there is only one version of the application, they don't have to worry about distributing binaries or preserving backwards compatibility in their service APIs. This avoids duplicating the development process, saving both money and time. Because PWAs are faster to develop, they are also easier to update. This also means lower costs over time
Problems with conventional Native APPs:
Developing a native app has many problems associated with it like:
Not always simple to build and support, especially given the additional time required to develop and support multiple platforms, versions, and devices.
It is not a less expensive option, since support for many platforms, devices, and versions frequently raises the price.
Difficult to distribute, as submitting to an app store is a time-consuming process.
Increased time to market
To view updates in native applications, the user must update the app. This is okay for most people who set up auto-updates while their phones are connected to the internet, but it does not work for everyone.
Reliance on the app store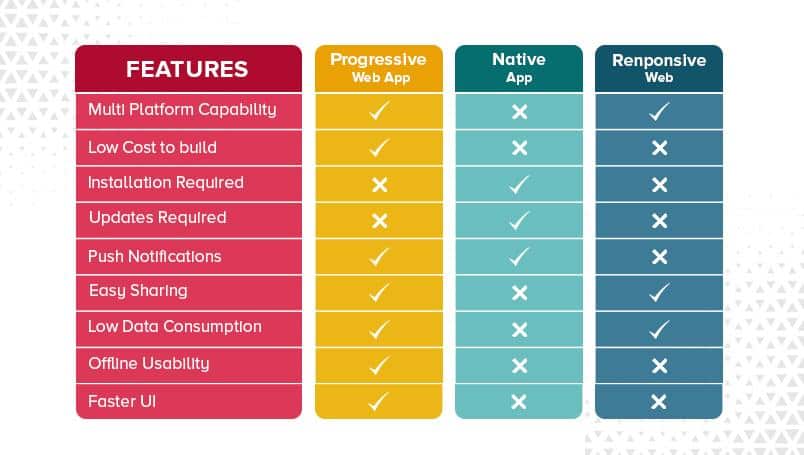 How PWA can save cost and App development time:
• Lower cost: developing a PWA is less expensive than developing a mobile app, which requires two phases of development and a specific set of development tools and resources. The financial expenditures of developing a PWA are also reduced because just one team is required to work on the project and only one phase is required.
• Lower memory requirements: high-end devices with enormous memory capacities don't have this difficulty. Having to erase vital data to make way for new programmes can be a chore for smaller devices that have to manage memory allocation for media and backup files. Users don't have to download app data to utilise PWA, therefore it's a solution for this issue.
• Accessibility: the larger the programme, the longer it will take to load. PWA allows for faster access, limited only by the speed of your internet connection. PWA also eliminates the installation time for newbies.
• Search Engine Optimization: Because a Progressive Web App is really a website, it is optimised for search engines as well. This implies that PWA results are more likely to appear first in search results, improving online visibility and user popularity.
In many facets of business, time is money, and software development is no exception. Why design a native app with several codebases, which can cost up to twice as much to develop and offer no meaningful benefit? Why make updating and maintaining your app more complex and expensive, requiring even more developer or DevOps effort, when you might invest in a method that's easier to support internally?
The truth is that if a more lightweight progressive web app can meet your and your users' needs, it is a lot wiser and more efficient use of corporate resources. Your organisation could gain greatly in terms of cost savings and ROI by saving developer time and streamlining the process. Because PWAs are easier to maintain and extend, the time and money saved will be carried through in the form of faster, less complicated updates in the future.
Trying to figure out whether a progressive web app or a native app is better for your business? Talk to one of our expert Today.