Hosting Services for Existing Websites
Aestheticextendersymposium.com came to MVI as a referral from an existing client. Aesthetic Extender Symposium's owner (as many other MVI clients are) was frustrated with the difficulty in obtaining support from her existing hosting company. Her previous hosting company was impossible to reach via phone and when reached it was some one not familiar with past request or issues.
MVI staff are available via phone or email daily. Each client has a dedicated project manager with knowledge of their site and its history.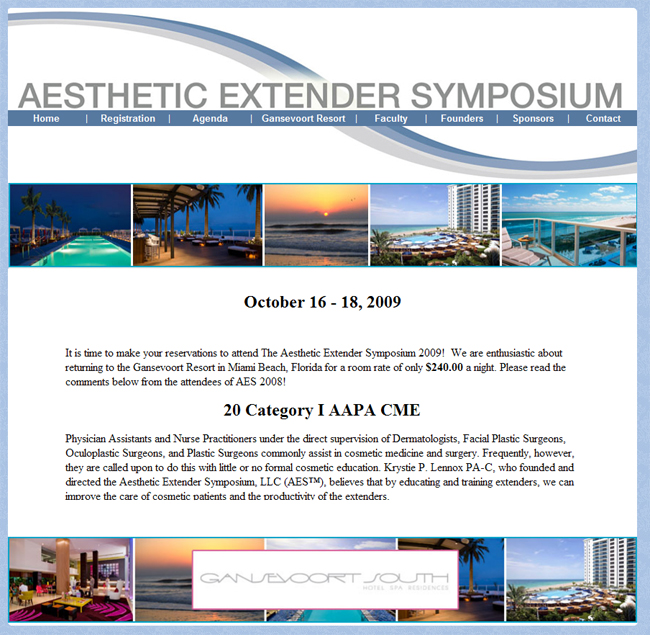 MVI offers excellence in Web site, database and application hosting.  Please contact our consultants to discuss the extensive options and features available for your Web hosting needs, read more.
MVI is located in South Florida and focuses in serving the Miami, Fort Lauderdale and Palm Beach area. We offer services unique but upscale to make certain that our clients receive the very best services possible. Such as Spam filtering of all email. Redundant backup of all data every 6 hours. Web stats that are state of the art in the industry at MVI SPY. When you choose MVI as your Web host you can be confident that your site will be hosted on high-quality servers with Intel Xeon 2.8Ghz processors, high-speed Seagate hard drives and the highest quality RAM. Customer service is the key element in the satisfaction of our clients. Because of this, customer service is our number one priority. MVI offers 24/7 telephone support and support from an online help desk. We pride ourselves on our quick response times to support issues. Our staff is knowledgeable, well trained and willing to help in anyway possible.
We realize that there are many choices available when deciding where to host your Web site. And we know that you are hopping all over the Internet trying to figure out who's real and who's working out of their garage. It can be overwhelming. But then you found us:
So what makes us different? The biggest thing… we've been here 10 years providing superior service and industry high uptime guarantees, we answer the phone 24/7, we offer services no other company in our industry matches and we host all sites from the backbone of the Internet. We did enough that it qualifies MVI as experts in the hosting business.
What it comes down to is this: Our customers didn't like the service they got elsewhere so we decided to call MVI and they what they saw and we have grown each year for the past 10 years. So if you are tired of little or support, no email, no FrontPage, no telephone support then call MVI and talk with our staff.