Scheduling Appointment Software
Scheduling & Appointment
When a visitor arrives at your site and you offer online appointment request a website admin needs control over what weeks days and hours are available. This module allows admins to set up how many appointments per time slot a business owner allows. The example here is where an admin set up the ability for 4 appoints per 15-minute time slot to be accepted. Once the time slot is requested by a visitor of the site, relevant information about that user will populate the time slot for review by the admin.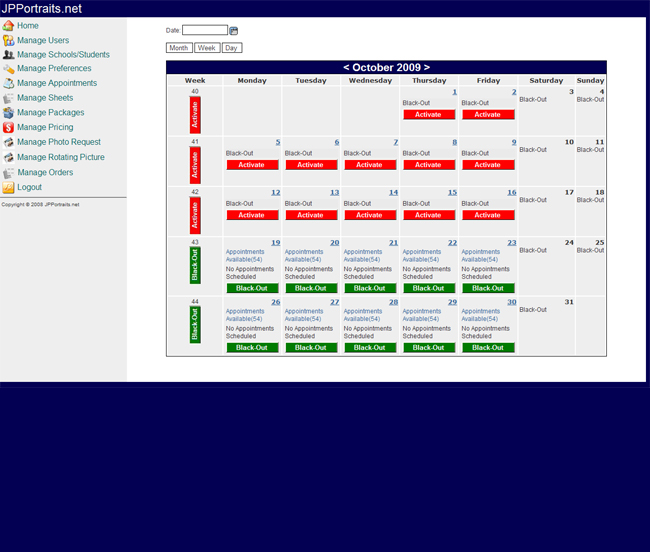 MVI Help Desk takes the finest features of the help desk, trouble ticket and integrates them into a secure web-based device that is powerfully productive yet very user-friendly. This module takes support to a new level of effectiveness within any company. Help Desk gives you a wide-ranging control and visibility of your customers support issues. To handle the request for assistance we have opened a new site and renamed our Help Desk product, Full Spectrum Help Desk, to view a demo or read more about help desk please click here.
Full Spectrum Help Desk Provides:
Organizes and stores all support communications
Displays all support request individually or by group
Allows for updating of all support requests
Tracks support actions, giving management a real-time picture of support status
Stored support requests allows management to review how to improve support
Support request are cataloged under customer identity
No technical knowledge is necessary for use of Help Desk because it uses a web-based interface that is so intuitive you will be working in minutes. Help Desk needs only a few changes of e-mail settings to create users. Help Desk is completely compatible with every current web and email hosting service. Of course, the system also comes equipped with its own email system.
Help Desk is accessible from any computer with up to date web browsers and any Internet connection. No software needs to be downloaded to your network or computers. Help Desk is a hosted software which can integrate its powerful features while our staff handles the support and maintenance. Security is handled by an SSL certification, either ours or yours.
You control how the system works by deciding what mail goes into each queue for routing. Each queue is an area of responsibility or a department within your company. Each department or queue has users that focus on tasks for those departments. Users can be part of multiple queues and tickets can be passed between queues. Help Desk provides you with an unlimited number of queues for the management of your support email, such as Billing, Information, Support, System Administrator.
Read More about Full Spectrum
Find out more by contacting an MVI CMS consultant at 877-633-9536 x6