Offer Management Tool
Our client needed a system by which visitors of their site can view offers provided to Suspicions by their vendors. When a visitor sees and clicks on the offer, they are taken to the vendor's site. MVI built a tool to load the offers on the site and track their click-through to the vendors.
For Susopiniones.com, we created a custom admin tool to load in the offers onto the site. We also were responsible for the front-end programming which displays the offers to the visitors of Susopiniones.com. The site is available in both English and Spanish. On the admin side, once an offer is loaded, we provide the admin the ability to specify certain additional parameters that are used for tracking purposes. This allows Suspicions to monitor the actions of their visitors and the follow-through to the vendors. The system is built on MVI's LAMP platform.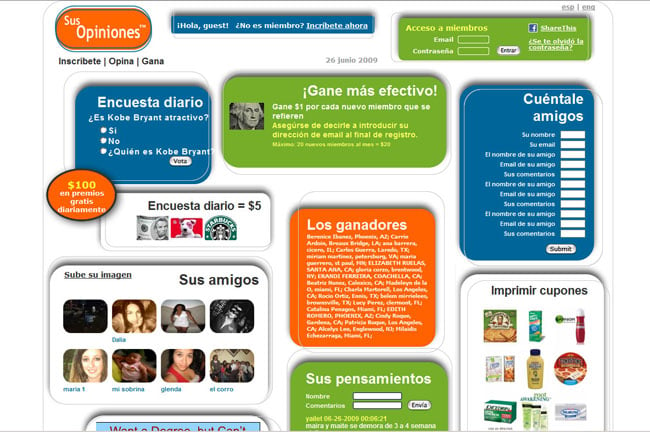 MediaVue has projected that new Internet E-procurement auction purchasing models will save the world's companies $1.25 trillion over the next few years. E-purchasing chain procurement software enables purchasing departments to take advantage of this trend and dramatically reduce acquisition costs for goods, services and raw materials.
Since 1999, the MediaVue technology team has been at the forefront of dynamic e-commerce, procurement software, auction software and e-business application development, focused on solutions that are powerful, flexible, scaleable, robust, 100% customizable, extremely cost-effective and capable of rapid deployment.
Manage e purchasing cycle from requisition to receipt of goods.
Multi-Level approval of requisitions supported.
Email notifications automatically sent to appropriate personnel.
User groups with unique access
System allows for reconciliation of packing slips to PO's and PO's to invoices.
Generate reports by employee or department.
Control costs by analyzing and comparing spending patterns.
Track employee and department requisition histories.
Reverse Auction Module – Enables you to engage a group of suppliers in a "bidding war" to get your business, thus ensuring you are able to purchase at the lowest possible price.
Post RFQ's and RFP's – Allows prospective and existing suppliers to determine how best to meet your needs.
Supplier Pre-qualification – allows you to maintain quality control.
Export Data – Share information with all major accounting packages.
Auditing Tools. Automatic log file generation.
Bulk Loader – Enter RFQ's into an Excel spreadsheet offline before posting on reverse auction.
Auto Re-listing – Automatically re-listing of recurring items
Item Descriptions – Keep track of the details on items being supplied.
User Feedback – Post information for participating suppliers.
Macro-Site Customization. Change the text for the entire site (including form fields) through an administrative interface. No need open files or use HTML. Also change site color scheme.
Photo Upload Utility – Allows suppliers to post photos of their merchandise.
Classified Ad Module – Allows you to sell merchandise, which your suppliers (or others) may need.
Personalized Pages – Lets your suppliers have their own personal page on your Website.
Orders Tracking System – Allows the successful supplier to help you track your order.
Photo Studio – Allows your suppliers to post their items in a thumbnail format so you can easily browse their merchandise.
Private Categories – Invite only selected suppliers for particular items.
Countdown Clock – Lets you know when an auction is about to end.
Dynamic Opening – Auction doesn't start until the first bid is placed.
Dynamic Closing – Auction remains open while bidding is active and closes only after a preset period of inactivity.
Quick Purchasing – Have your reverse auctions last only a few minutes or a few hours.
Refer-a-Friend – Allows you to notify friends and associates about good deals you find.
Virtually unlimited categories and subcategories – Post as many items in as many categories as you need.
Proxy Bidding – Automation, which allows suppliers to offer lower prices without, actually being logged on to the system.
FAQ Management System – Answer suppliers' questions about your needs.
HTML Support – Allows suppliers to use HTML in there item descriptions.
Opt-In Mailing List – Notify all potential suppliers simultaneously of your needs.
Custom Reporting – Generate your own customized reports.
Banner Ad Inclusion – Allows you to easily ad banner ads to your site.
Unit of Measure Setting – Use grams, pounds, liters, or whatever unit of measure is appropriate.
Powerful Search Capabilities – Suppliers can search site using multiple criteria.
Purchasing Administrator – Powerful module allows the administrator to easily manage the supply chain.
Multiple Operating System Support – Compatible with Windows 2000, Windows NT, Linux and Unix.
High-End Database Support – Compatible with SQL Server and Oracle. Microsoft Access is also supported.
Supports clustering of databases and load balancing for web services.
Transaction Services – Support for Trade-Enable to insure supplier integrity.
Online Processing – Major credit card processing services such as Authorize.net supported.
Vertical Market Features – Open-ended program architecture allows for customization of software to specific parameters that are important for your end use.
System Analysis – Beyond Solutions can provide technical personnel to assist you in interfacing with legacy systems and adapting the software to your unique needs.
Click here to learn more about auction software
Find out more by contacting a MVI CMS consultant at 877-633-9536 x2