Business Management
Manage Your Business Online
Creating a new business is an unbelievable experience. Working for yourself is a way to reap the rewards of your hard work and intelligence, and put into practice the ways you could do things better than at your old job.
Becoming a Business Manager
The most important thing to remember as you move on with your business model is resources. You have an limited amount of money, and an even more finite supply of person-hours. This collection of some essential business solutions for your new business. These will save time and money right from the start and will eliminate antiquated business practices. The earlier you integrate them in your business development, the more you'll benefit.
New Business
A new business means getting rid of an outdated paperwork solution, and ramp up with digital examples. Luckily, the internet is very good at taking something somebody made and making sure other people get it for free!
Prospect For New Business
An internet web site is the easiest and least expensive method to create a marketing impression on the world. The marketing techniques used are straight forward. It does require that you define your business direction, services, products and express your company verbally.
QB Online
The accounting phase of any business can be simplified by going online with your accounting system QB. Online makes this step easier and allows you to access the files from any internet connection .
Document Management
Microsoft Office Online store thousands of template documents. Instead of starting to format and fill up an empty "New Document," a quick search on these sites will give you a starting point. Customizing a standard template takes far less time, and can often remind you of things that you might have forgotten. Make sure all your employees know about these business resources. That way they'll spend more time on new business than in pointlessly retyping old work.
Time Tracking
Organizing a meeting time for more than one person usually wastes more time than the meeting itself, as people often back-and-forth about when they can and can't make it. TimeBridge leaps over that, and if you're a new business working with freelancers, telecommuters or contractors, it might just save your sanity.
Fax Replacement
Somehow a client asking you to fax is absolutely needless in a world of e-mail, even though it's like telling your collaborators that you have not upgraded your business practices. Save yourself the stupid expense of a fax machine, and rent an online fax operation.
Telephones
You're going to be spending a lot of time on the phone. Obviously Skype will save a lot of money (and simple smart steps like using a headset will allow you to check your facts and files while on the phone). Other great group communication tools include online conferences which does exactly what it says.
File Distribution
Getting large files from person to person can be annoying, especially when everyone's arriving in a new business with completely blank slates. You can send huge archives to other people without hitting the dreaded "This attachment is too large" limit, by using online drop Box.
Computers
The one piece of hardware we'd recommend for the new business is a wireless computer. No matter how intelligently electronic your office, you're going to need a computer. A central wireless network server allows anyone to store – communicate anything without snaking cables.
The client was able to expand their mattress inspection business from statewide to nationwide with the use of this customized business management tool. They are now able to allow customers and technicians to login to the application and view the warranty claims and the results of the inspections.
This online business management tool allows the site administrators to manage their customers, technicians, and inspection requests. The administrator is able to assign the inspection requests and view their status progression. The inspection manager includes automated color coding of inspection requests to allow the administrator to quickly see inspections that have not been performed or are late.
Technicians are able to login and manage the inspections that have been assigned to them as well as take the Mattress Marshal Inspection Certification Test.
Customers are able to see the status of their inspection requests and view a history of their inspections.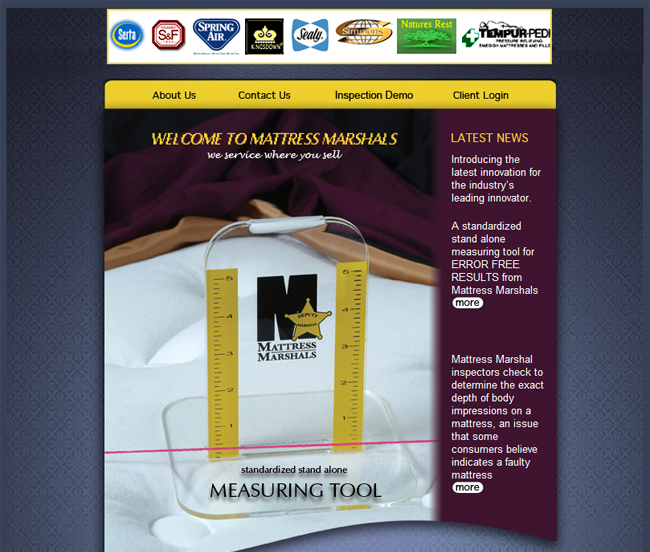 MVI sales lead provides superior secure web based lead management solutions. Our software will help you distribute, track, analyze and convert more leads into customers. Hot sales leads are just that-hot. When prospects reach this point in the buying cycle, they are ready to move. Every hour counts. The challenge is to get the right information to the right place at the right time. In today's economy the sales staff has to keep moving and the ability to capture these leads via I Phones or PDA's has never been greater. Our Sales Lead software answers that challenge. View Demo And Read More.
When a sales lead system works in real time from anywhere then the whole organization can identify a high-potential qualified prospect, with complete information placed into the hands of the salesperson. The information collected on this prospect may come from imported interactive web forms, telephone call ins or email correspondence to your company. This lead can be assigned by sales manager or automatic controls and the sale person can retrieve alerts via mobile devices. The sales staff remains in contact with the home office 24/7, while all information is securely tracked, stored and monitored to maintain the effectiveness of your sales staff and marketing programs
MVI Sales Lead Software provides the ultimate support …
Deliveries Submitted online forms directly into sales software
Allows staff to up date records via mobile devices
All inquiries can be placed in Sale software in real time 24/7
All inquiries can be reviewed by sales manager
Fulfillment can be sent directly from the sales software
All leads can be updated and ranked
All leads can be assigned in real time
Time is essential so the system works 24/7
Sales staff receives leads when they happen
Details are exported for use on other systems
The system is stored in redundant environment to protect all data
No information is ever lost
View Demo And Read More
Find out more by contacting a MVI consultant at 877-633-9536 x306