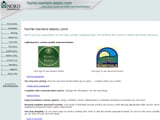 CS Nord
Nord Enterprises
www.nordenterprises.com
Since 2002, Nord Enterprises has been a leader in home owner's association (HOA) content management software for the web. The main focus of their application is to provide the ability for HOAs around the world to have their own web presence in an easy to use, easy to configure software package.
Infinite Acuity has helped Nord Enterprises enrich their existing application by adding the ability to use an online payment gateway (ACH Direct) and the ability to import/export data from/to a third-party property management application (Yardi Voyager).
The ACH Direct integration involves creating an SSL connection to ACH Direct's servers and exchanging information via the HTTP POST method. Upon receiving the HTTP POST request, ACH Direct's server responds with an HTTP response message letting us know if the transaction was successful or not.
The Yardi Voyager data import/export mechanism uses a series of CSV files which are imported/exported from/to Yardi Voyager. These files are then in turn imported/exported from the Nord Enterprise system via its web interface by way of HTTP upload and HTTP download.
Contact us now to learn more about how Infinite Acuity can assist you.