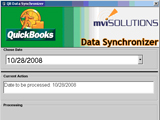 CS MVI
MVI Solutions
www.mvisolutions.com
MVI makes available a wide variety of Internet solutions, whether you are looking for a technology partner, software solution, corporate website design, marketing remedy, hosting solution or an advanced Web site developer.
Infinite Acuity worked hand-in-hand with their parent company to create a custom middleware application used to export information from their internal accounting software (Quickbooks) directly into their online, web-based CRM system.
MVI had a need to be able to synchronize certain portions of their QuickBooks system with their online CRM system. In response to that need, Infinite Acuity developed a special Visual Basic application that sits on the same computer that QuickBooks is on. When the application is run, it presents the user with the ability to select a data transmission date range. Once a date range is selected, a synchronization triggering button is pushed which causes the program to start dumping QuickBooks data from those dates using a proprietary text file format. The application is able to retrieve the QuickBooks data using a special ODBC driver. Once all of the data has been exported, it is then uploaded to their online CRM system via HTTP upload. At that point, a script on the CRM system parses the data and loads it into its database.
Contact us now to learn more about how Infinite Acuity can assist you.