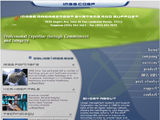 CS IMSS
IMSS Corp
www.imss.net
Infinite Acuity originally developed IMSS's RWS system which allows physicians and technicians to log into a central, web-based SSL location to view and report on patient images and information provided by their Amicas PACS system.
This was done via a small Visual Basic application that was developed that runs every minute on the RWS server. This application retrieves data from an XML data feed provided by the Amicas software via HTTPS and loads it into the RWS's custom DB2 database. This is the critical link that allows system users to see all studies that have been entered into the Amicas system in an almost real-time fashion. Once the studies are in the RWS system, the users can view their images by loading a special page within the RWS that calls a special Java applet developed by Amicas.
IA recently converted the RWS's custom DB2 database into MSSQL 2005. This involved data conversion, data migration and re-indexing of the database tables. As part of this process, IA created a new Visual Basic application that listens for HL7 messages from the NeuroStar server via a secure socket. An acknowledgment message is sent back to NeuroStar once the HL7 message is received by the application. The application then parses the HL7 message and inserts it into the MSSQL 2005 database.
About IMSS
Image Management Systems and Support Corporation is a medical imaging system integration specialist, specializing in cutting edge, economical PACS and teleradiology systems. As an IMSS Corp. subscriber, imaging facilities can transmit their images to the IMSS Corp. Internet Servers and make their medical images available to their radiologists. As an IMSS Corp. physician, doctors can log into our secure servers and view the digital medical images and corresponding reports for their patients. As an IMSS Corp. patient, individuals can log on, organize and provide access to their personal images.
Contact us now to learn more about how Infinite Acuity can assist you.