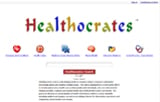 Cs Healthocrates
Healthocrates
www.healthocrates.com
Healthocrates.com is a growing medical resource providing information to interested users. Visit their Grand Rounds area to trade case studies with other doctors or you can view normal content pages for up-to-date medical information that everyone can use. The fact that all information on Healthocrates is reviewed by a medical staff has attracted lots of attention in the medical industry as well as major universities throughout the US. Topics include forums where people can freely exchange their thoughts. Many topics also include videos.
Infinite Acuity worked with a medical doctor that saw a need for a centralized medical resource where patients and doctors could be free to exchange ideas. Infinite Acuity determined the best way to get this done would be to integrate the site with wiki software. Infinite Acuity compared more than 20 open source wiki software suites to determine the best feature set to handle such a large undertaking. Infinite Acuity identified two drawbacks in the standard Wikipedia software – difficulty in editing syntax and lack of media (video in particular).
A wiki was chosen that would allow easy editing and also allow users to easily embed video from YouTube. Systems integration is one of the most complex undertakings in integration projects so rigorous testing was done to ensure all the modules would work together without issue. Finally, forum software was chosen and applied to the site. An advanced custom admin section was required to control the different complex components of Healthocrates.
The free form style of Wikipedia caused several concerns – the major one being the accuracy of content and responsibility to the public to display only factual information. It was determined that Healthocrates should be reviewed by a medical staff. This decision lent the credibility to the site for it to gain attention from sites like Kosmix which invited Healthocrates to become a "trusted source" contributor of information.
Contact us now to learn more about how Infinite Acuity can assist you.