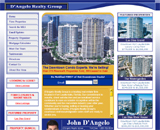 CS Dangelo
D'Angelo Realty Group
www.dangelorealty.com
D'Angelo Realty Group is a leading real estate firm located in Fort Lauderdale, Florida. Combining over forty-three years in South Florida with seventeen years of experience in the real estate industry, John D'Angelo, the firm's broker and owner, is the top selling and leasing agent for downtown Fort Lauderdale and has a performance record that has consistently placed him in the top one-percent of Realtors in Fort Lauderdale.
Infinite Acuity has worked for hand in hand with D'Angelo Realty and their IDX provider, which is named IDX Broker, to integrate their business website with the advanced MLS search capabilities provided by IDX Broker.
Infinite Acuity set up a link in the left navigation of the www.dangelorealty.com site named "Search the MLS". When clicked, this link takes you over to a site that sits directly on the IDX Broker servers which has all of the functionality that IDX Broker has to offer while maintaining the overall look and feel of the D'Angelo Realty website.
Contact us now to learn more about how Infinite Acuity can assist you.