SEO Google+
Google+ doesn't have the user base or marketer interest of Facebook or Twitter, but its' connection to search results is causing SEO's too closely watch the growth of Google+.
Reasons Why Google Pushing Google +
Google paid clicks, a measure of how frequently consumers click on Google's advertisements, rose 42% from a year earlier and were up 1% from the first quarter. The average cost that advertisers paid Google per click fell 16% from a year earlier and rose 1% from the prior quarter. This drop in revenue must be made up by other avenues.
Google just announced that 400 million people had signed up for Google+ worldwide and that there were 100 million active monthly users (Sept.2012). The August 2012 study 54% of online SEO's worldwide said Google+ was one of their top five most-used sites for social media marketing, compared to 80% who cited Facebook and Twitter. Google+ did, exceed YouTube, which 50% SEOs.
63% of respondents said that they had set up a Google+ business profile, compared to 75% of respondents who set up or ran a Facebook business page.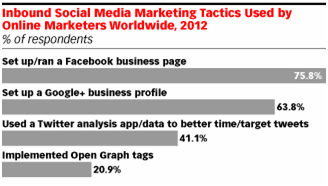 When looking more closely at trends MVI believes Google+ will have a big impact on the future of online marketing. The highest percentage of SEO's noted changes in Google's algorithm, like Google Panda, and Google+ as likely to make authorship, site and author ownership of content more important in the coming years. Google+ was likely to become massively influential in search engine results pages. Adoption and use of mobile and Facebook's domination were also very important to the future of SEO work.
Looking at why SEO's use Google+. The largest percentage used Google+ to help with branding. With the lack of Google + user numbers SEO's want to use Google+ for social media's most basic purposes, which are to increase visitors and establishing new followers.
Google+ is lagging in the social media market comparing user numbers and usage metrics. With the integrated marketing industry, however, its impact is likely to be higher for the PPC industry.
Mobile Trends
Google is reportedly making two new versions of the Nexus 7 that are expected to be thinner and will use TN panels made by Taiwan-based panel maker HannStar Display, according to industry sources.One of the models will be priced at US$199 while the other will be priced US$99, and both models are expected to hit markets by the end of 2012.
The sources speculated that Google is preparing for increased competition from Apple when the reported 7.85-inch iPad is released in the fourth quarter of 2012 and wants its device to maintain growing sales.HannStar has also reportedly entered the supply chain for Apple's iPad series but has yet to comment on whether it will be working with Google or Apple.