Holiday Social Media Successes
Throughout the holidays consumers tend to use social media differently, and its important to understand these differences when marketing brands. Established retailers have more influence in brand awareness because of their size, smaller brands can position themselves as likable and prominent.
Holiday Social Media Campaign Done Right
PetSmarts Facebook Page encourages people to vote for their favorite wish list items for a chance to win gift cards. This Facebook campaign engages fans through a voting system that is fun, and taps into peoples affection towards their pets. There are many third-party applications you can use to create your own voting system or contest on your brands Facebook page.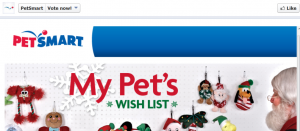 Ways to Expand the Interaction Between SEO and Social Media
Through the collaborative efforts of social media and SEO, you can strengthen your digital footprint and generate a stronger online presence. By developing a strategic link building plan, analyzing data and traffic, and growing social media exposure, you will harvest all the benefits possible between social media and SEO.
Because Googles algorithm cannot detect whether content is valuable, social signals are more important than ever in boosting SEO. Evaluating whether a social media page is not Google job it just counts the links.
By combining a cohesive list of which audiences and which types of content have resulted in the most effective link-building campaigns, you can better understand who your audience is and how you can continue building brand loyalty.
Developing strong relationships with industry leaders and other influential people, is important in SEO and marketing efforts. Recruiting influential people directly impacts how others in the industry view your product and corroborates your claims of customer benefit.
Use social media advertising features to boost search rankings on your content.