Shared Hosting Servers
At MVI Hosting, we believe that a tier-1, carrier-neutral network is not the only thing needed to provide a high-speed and reliable shared hosting environment. There should also be a proper server structure in place to allow for fail-overs and load-balancing. Unfortunately, most shared web-hosting environments today are these cheap, one server does it all solutions which we wouldn't really call a solution at all. Hosting a dynamic, database-driven website with full email capabilities requires more horsepower and robustness than a single server can handle. Hosting on one server alone means that the one server has to handle DNS, SMTP, POP3, IMAP, Spam Filtering, HTTP, FTP and SQL combined! That means that if any one of these services gets over-worked, then all other ones suffer. That's why at MVI Hosting, our shared hosting accounts are housed on a multi-server system to provide the best possible speeds and reliability. MVI Hosting has come up with a server infrastructure which allows for maximum reliability while still being affordable. Below is a diagram of our server infrastructure.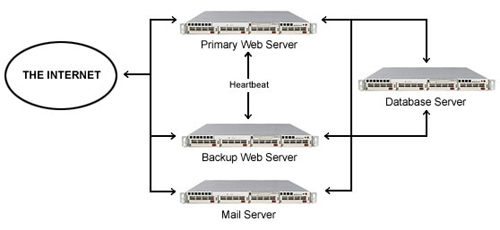 The first thing to note about our server infrastructure is that we have a failover High-Availability Cluster (HA Cluster) to serve our clients' web pages. This means that there is a dedicated connection between the primary and backup web servers which is used to send a pulse of data, or heartbeat, between the two systems so that they are aware of each other's state at all times. The servers also synchronize all website files real-time throughout the day so that at any given moment, the backup server has the most recent files that have been added to the primary server. If the backup server detects that the primary server is down by lack of heartbeat, it then proceeds to do an IP takeover and assume the primary server's role. This happens so fast that in the event of a failure with the primary server, it is almost impossible to tell that anything is wrong. Of course we know right away and can get the issue resolved and get you back up on the primary server without you having experienced any downtime whatsoever. This is something that cannot possibly be accounted for in a cheaper, single-server solution.
A database query can be one of the most intensive operations that a server can do. That's why we have a beefed-up, dedicated database server. This ensures that all of your dynamic website's database accesses are handled as quickly and securely as possible. As you can see from the diagram, our database server is not connected to the internet in any way. In fact, the only machines allowed to access the database server are our primary and backup web servers. This keeps your sensitive data contained in a local, closed-circuit network. Basically, this means that if a hacker were to try to gain access to the database server, they would have to hack their way through one of the web servers to gain access. This adds an incredible layer of security to all of your mission-critical data.
The last piece of the puzzle is our dedicated email server. Although email is normally a small percentage of internet traffic that a website creates, it can become pretty intense if the right conditions arise. That's why all of our email needs are handled by a powerful, dedicated email server. Incoming mail comes directly into it from the internet, and our clients download their mail directly from it. Also, if any of the dynamic websites on our web server cluster sends out an email, it goes through here. It handles spam filtering, webmail, quota management and many other email-related tasks as well. Having all of our email services handled by dedicated server, ensures that our other servers (Web & SQL) can make maximum use of their resources to do what they do best.
Dedicated Hosting Servers
For clients interested in having their very own servers, we offer a wide variety of solutions. From single-server applications to multiple-server setups, we use only the highest quality and most reliable servers and equipment the industry has to offer. When a client comes to us wanting a dedicated hosting solution, we respond by creating a custom server infrastructure that best meets their needs. For more information please get in touch with us by Clicking Here.