Marketing Suite Tools Designed to Inform
Visitor Web Analytics
Do you have an integrated understanding of who your visitors are and what they want to accomplish? Who is on your site? Would you like to be able to quickly understand the profiles of your visitors based on their user behavior and browsing interests?
mviSEO provides profiling an extension of your website. The feedback is in Real Time and gives you the ability to adjust displays, evolving as you learn about your visitors and their behavior. With this newfound knowledge, a whole new world of understanding is open to you.
What are the first time visitors doing? Which pathways are they using to get to the most popular content? How did your different audience segments behave?
You'll know the sources they came from, what they searched for on and off site, the goals they reached and content they consumed, all critical in understanding conversions and building online success. The Online marketing Suite takes Web Analytics to an entirely new level, with in-context information delivered in real-time.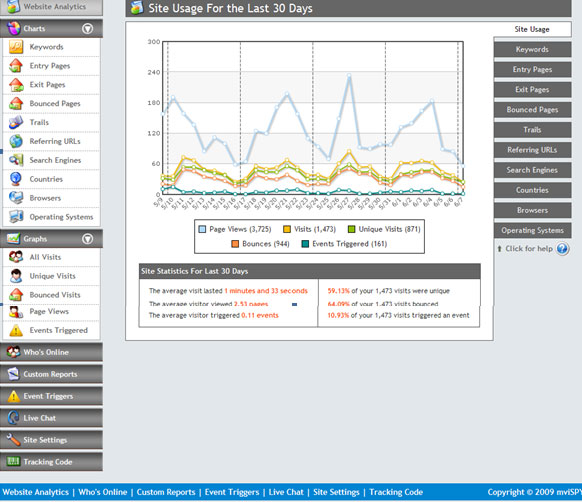 Real-Time Site View
Can you watch your site traffic in real time to achieve higher conversions? Would you like to watch as new products, articles, or conversions occur on your site? With the marketing suite, you can not only view what is happening, you can see the name and address of the user on your site.
This Chart shows 19 Users On the site at One time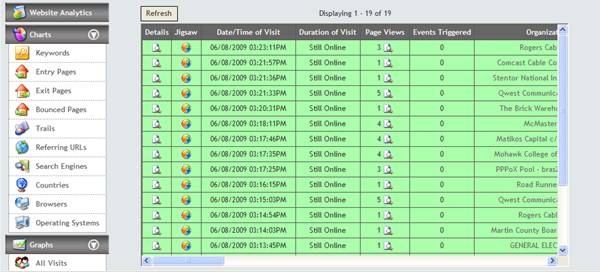 Expanded view one visitor on the site live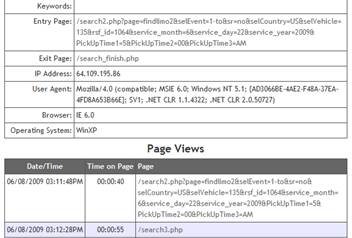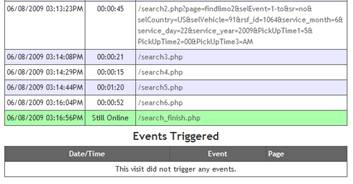 Want To Speak With Online Visitors
Live Chat is available for those to use when they want the feature! You will understand how live chat works and you can implement when you need the tool. This tool allows visitors to click a chat live link and speak directly with your staff. The tool also provides proactive chat that enables your staff to initiate a conversation with a visitor. This is instant communication made directly between two parties in a one-to-one chat. This protects the visitor so that other visitors won't be able to view private communications. The chat dialogue is stored in the database and available only to website owners for later review.
Unlike conventional Internet communication tools, Chat Live allows both the site visitor and the site owner to initiate live chat conversations. Since the live chat service is web-based, visitors do not need to download or install any software. The website staff can view the information about the website visitor in real-time before, during, and after chatting with the visitor. The details that are available include IP address, Company name, Pages viewed, Time on the site, Whether the visitor was returning or unique, Keywords used to get to the site, Search Engines searched.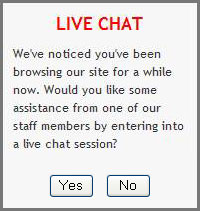 History of Chat Conversations
Sales Team Enablement with Web Prospects
Would you like to give the Sales Team instant Intelligence on prospects and deal influencers present on your site? Are sales interested in qualified profile info with each website lead? Visibility into what the visitors downloaded, what they searched for within your site, what they viewed can be very useful.
mviSEOs Online Marketing Suite sends all this sales intelligence in proactive emails direct to your sales team's PC or mobile device, using your existing email system.
The Online Marketing Suite transforms your website into an extension of the Sales team by identifying new and active prospects on the site, detailing the experience in understandable terms, and immediately providing this intelligence to Sales. With our GeoIP tracking abilities, your sales team will know the lead's Country, State, City, and potentially their Company name. You'll get the quick notification, well scored and qualified leads, and have insight into your website visitors' experience on the site.
This can be integrated into leading Sales Lead Systems or CRM systems, so you can leverage and control this new information in your familiar environment.
You'll build your prospect pipeline, improve sales intelligence, shorten the sales cycle and increase your win rates with the new Online Marketing Suite.
Turning web traffic into new customers is the goal of most sites. All websites, good or bad, generate a lot of valuable data which if collected, and studied, will tell a story. Collecting the data presents analytical data that focuses attention on what must be improved and what is working well. We supply the clues necessary to learn how to improve your site and accelerate its' performance.
Image below shows Lead Inserted Directly Into Sales Software Or CRM Software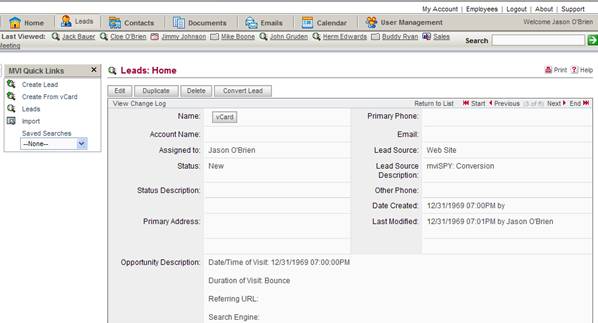 Get the Real ROI of Your Campaigns
Would you like to fully understand online campaign results, identify the experience and responses visitors had on your site, and get to a much more meaningful ROI? With mviSEOs Marketing Suite You have an unprecedented ability to gain immediate insight into seeing the website goals and conversions accomplished by each campaign, down to the individual session level. Whether you are tracking newsletter campaigns, Google Adwords, online ads or any other online initiative, now you can find out far more about what these visitors did once they reached your site, including country, city, and often their company, even if the visitors don't fill out a form. And if they do fill out a form, the visits are all tied together with a global cookie so you are presented an integrated picture of their various visits to your sites, and what got them there in the first place.
The result is far deeper than CPC or CPM, as you can associate multiple visits, goals, actions, and type of visitors with each campaign; so you focus on the high impact campaigns and weed out the underperformers.
Data Is King Tp Advertising Measurement Below is Just the Beginning